Airport Transfer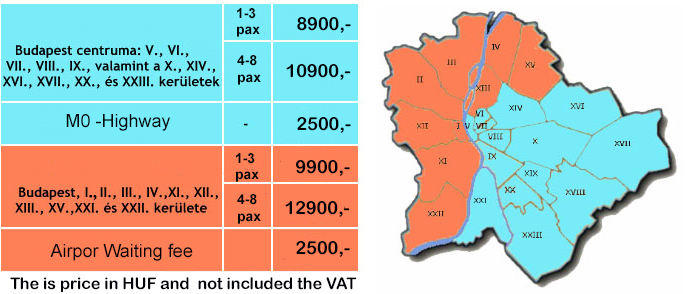 In all of the cases our drivers will welcome you or your guests at the waiting hall of the airport with name table.

Other fees:

We are continuously checking your flight, if it arrives earlier/later in order to adapt our arriving time
Please note that there is 10 minutes waiting time calculated in the transfer prices, any additional time would be added to the final price. Any additional waiting time will be added to the final price on the following basis: 1000Ft / 10 minutes
The total price of the transfer is calculated per minibus, not per person, for any transfer in Budapest, for maximum 8 persons.
The transfer is only for you, your family and your guest; you do not have to share it with other travellers.
The waiting time of the minibus or the car:
When booking a minibus every started hour costs 6000Ft /hour
Additional waiting time 1000Ft / 10 minutes
Collecting transfer (collecting the travellers from different addresses) 2000Ft /address
Upon request, using the highway M0 : 2000 Ft
VIP plus (Luxury cars, Mercedes etc.): +30% of the given price
Carrying bicycle: 2000 Ft / bicycle
No additional fee for small dogs or cats in cage
No additional fee for guide dogs
Additional fee for pets (large dog, cat): 2000 Ft
The inside disinfection of the car : 15000Ft
---
* There is 10 minutes waiting time calculated in the transfer prices, any additional time would be added to the final price
** The car of your choice, with exclusive English speaking driver, dressed according to an elegant dress code